Return to Headlines
OTHELLO SCHOOL DISTRICT SEEKS REPLACEMENT OF EXPIRING LEVY
Othello School District will ask voters to approve the replacement of the district's expiring Educational Programs and Operations (EP&O) levy in the February 14, 2023 election. The district's Board of Directors unanimously approved a resolution authorizing the election. "This is not a new tax," said Ed Petersen, Director of Public Relations. "Our current EP&O levy expires at the end of 2023, and so we are asking voters to approve a replacement, to continue important funding for schools."
The three-year replacement levy will provide $2.825 million in 2024, $3.050 million in 2025, and $3.300 million in 2026. Additional state funding, known as Local Effort Assistance (LEA) will also be made available to the district if the levy passes. Property owners will pay an estimated $1.50 per $1,000 in assessed value in all three years. The rate per thousand in assessed value may fluctuate with property assessment changes. "While your rate per thousand may vary based on tax assessment changes, the amount of funding the district receives will not change," said Petersen.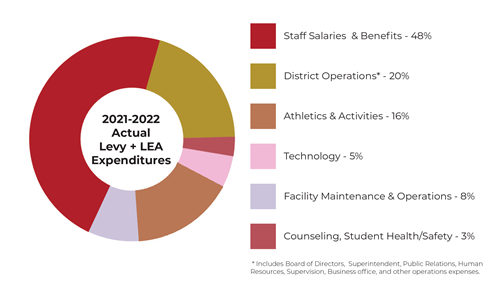 "Our levy makes up about 11 percent of our total budget in the current school year," said Superintendent Dr. Pete Perez. "It is an important source of funding for programs and operations that are not fully funded by the state or federal government." In the 2021-2022 fiscal year 48 percent of levy funds were allocated to staff salaries and benefits, 20 percent to district operations, 16 percent to athletics and activities, 8 percent to facility operations and maintenance, 5 percent to technology, and 3 percent to student counseling and other services.
The levy helps fill a gap in operations and services. "For example, the state doesn't provide funding for us to have a full-time counselor or nurse at each elementary school," said Dr. Perez. "The levy helps us provide these important services and much more." Levy funds have helped Othello reach a 1-to-1 student ratio for chromebooks. It helps maintain and replace those items as well.
Athletics and activities are almost completely levy funded. "We have a very high participation rate in sports and other activities, which are almost fully funded by our EP&O levy," said Dr. Perez.
The EP&O levy also helps fund new curriculum adoptions, professional development for staff, enrichment opportunities for students, music and arts programs, transportation, food services, and some staff positions. More information about the EP&O levy can be found at www.OthelloSchools.org/levies
Election day is February 14, 2023. Registered voters should receive a ballot in the mail in late January or early February. Ballots must be postmarked or placed in a ballot collection box by 8 p.m. that day. Residents can register to vote online at vote.wa.gov.