Return to Headlines

Click the roadmap image below for our Bond 2022 information page, including FAQs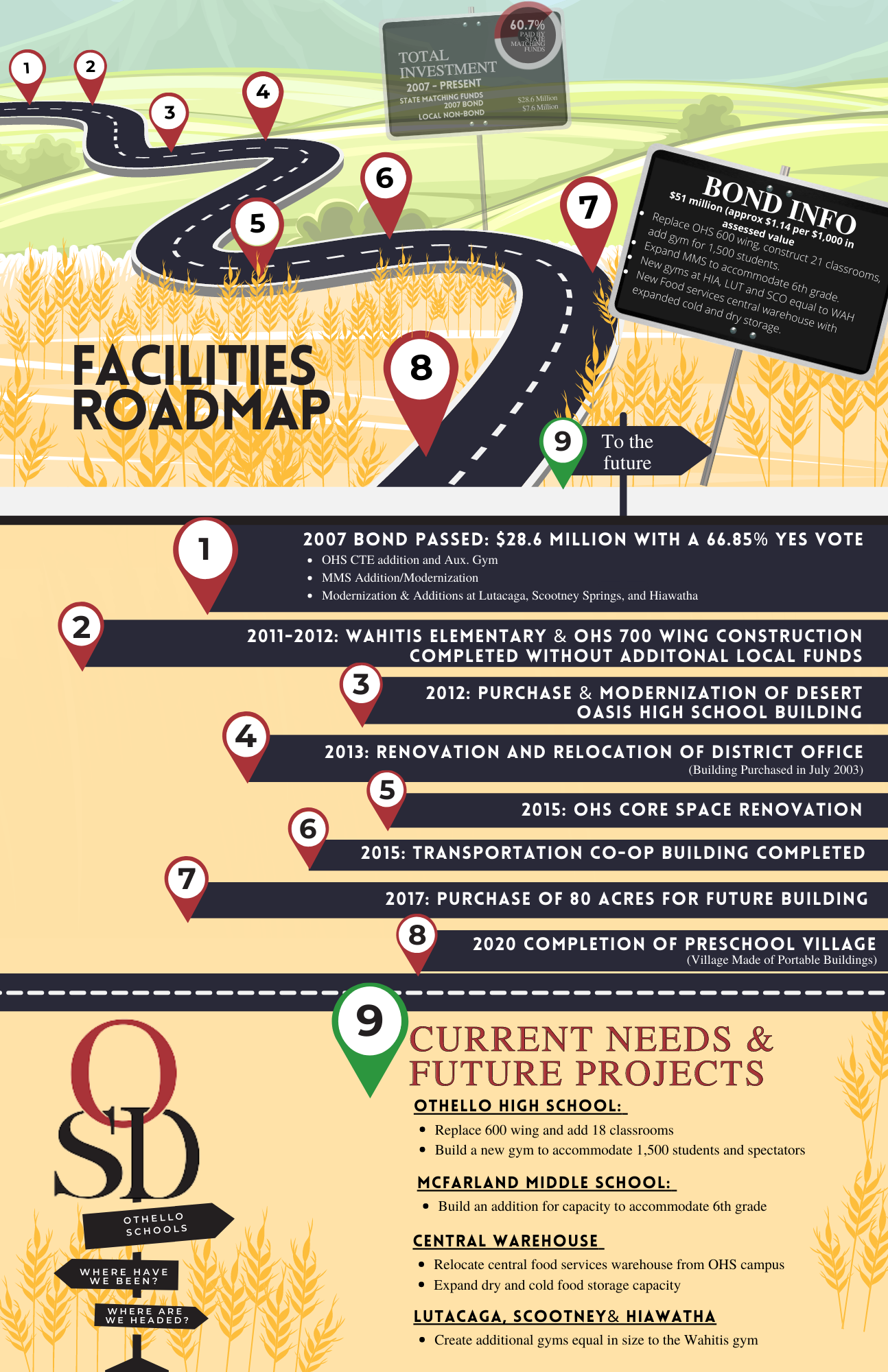 Othello School District's Capital Projects Planning Workgroup gave a presentation to our Board of Directors on November 2nd. The group presented a recommendation for a bond election in February 2022, seeking $51 million for projects that include:


Replacement of the 600 wing at Othello High School and construction of 21 new classrooms.
Construction of a new gymnasium at Othello High School to accommodate 1,500 students and spectators (the current gym cannot seat all of the students at the same time).
Expansion of McFarland Middle School to accommodate 6th grade students.
Construction of a new Food Services central warehouse at a new location off of the OHS property with expanded dry and cold storage capacity.
Construction of gymnasiums at Lutacaga, Hiawatha, and Scootney Springs that are equal to the gymnasium at Wahitis.


The board agreed to accept the recommendation of the workgroup and will discuss a potential bond resolution at an upcoming meeting. If the proposed bond is passed, it would have an approximate impact of $1.14 per $1,000 in assessed property value.


The workgroup's recommendation was the culmination of planning work that has been underway in Othello for over five years, though the COVID pandemic caused a short pause. That work has included:


2016-2021: Facility planning progress with stakeholders and staff.
May & June 2021: Data synthesis
July & August 2021: Understanding the goals and identifying possibilities
September & October 2021: Refinement of facilities plan.
November 2021: Committee recommendation to the Board of Directors
Next steps: Board action on resolution, communication with the community, February 2022 election.


More information about the scope of the proposed projects will be coming soon, pending board approval of a resolution authorizing the district to place a bond election on the February 8, 2022 ballot.
Click here for more information about OSD Bond 2022