Return to Headlines
OSD Challenge Coin Awarded to Marian Shade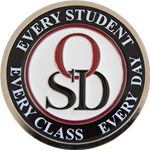 Marian Shade, our Director of Transportation, was awarded an Othello School District Challenge Coin on February 5th.

Othello's Gold Challenge Coin Recognition program was created to provide an opportunity to recognize extraordinary contribution, dedication, effectiveness, leadership, and engagement. Nominations can be made by any member of the district's leadership team for consideration by the district's executive leadership.
Marian has led our transportation department through some incredible challenges, not just in the past year with COVID, but throughout her career with our district. "She never complains," said Superintendent Dr. Chris Hurst. "Marian rises to the challenges of her department and our district with grace and superb leadership qualities and we thought it was time to recognize that."

Since last March, Marian has helped organize the successful implementation of a meal
distribution program that used district buses and transportation employees. "Hundreds of kids might not have had access to nutritious meals for months without her effort," said Dr. Hurst. She has also led the effort to successfully plan new bus routing and services that were made necessary by the split blended learning schedules in our schools.

Marian has also successfully turned around a shortage of bus drivers. "There was a time when we were severely deficient in our staff pool for bus drivers. Hiring drivers is always a challenge, but Marian led a marketing effort to reach out to new potential employees. Had the start of this school year been a normal one, we would have been fully staffed in transportation for the first time in a long time. Marian's exceptional leadership has helped make our transportation department a desirable place to work," said Dr. Hurst.

Marian's husband and daughters were invited to attend a meeting of district directors where the coin was presented in a surprise announcement.