Return to Headlines
Grading Practices Updated for Grades 7 - 12
Othello School District has adopted new grading practices for middle and high school students. The new policies were presented to the Board of Directors during the regular board meeting on December 7th. Administrators in the district's secondary schools stated that grades should be a measure of student learning, not compliance. The new practices create a standardized grading system for grades 7 through 12 that is statistically fair.
The most noticeable change is to the grading scale for letter grades. "If you imagine the current grading scale as a pie chart, 60 percent of the pie is an "F" grade, while only 40 percent is passing grades," said Othello High School Principal, Scott Swartz. "The new scale moves the bottom grade up from zero to 50 percent. An "F" grade now makes up the same percentage of the scale as each of the passing grades. It took an unequal amount of effort to move from an F to a D versus from a D to a C in the old grading scale." The new grading scale is intended to prioritize recognition of student mastery of content rather than compliance with timelines.
Each secondary school (McFarland Middle School, Othello High School, and Desert Oasis High School) is developing consistent policies that allow for students to receive full credit for late work. All students in grades 7 through 12 will also have a chance to retake quizzes and tests at least once. "This helps students develop a growth mindset," said Schenck. "Falling behind or not getting something right the first time doesn't mean a student can't be successful."
Swartz echoed Schenck's feelings. "This is a more fair assessment of what a student has learned. It helps level the playing field somewhat. Some students will still have to work harder than others to find success. But at least now they have a chance. If they fall behind, it's possible to climb out of the hole. A student who sees no hope to pass a class is not going to put any effort in to change their outcome. This new system gives them that hope back." Swartz said that the new grading system is an effort to create equality in grading while still rewarding students for their time and hard work.
Swartz pushed back at the opinions of critics who say the new practices make passing a course too easy. "A student can still fail a class," he said. "If they do little to no work and can't show that they have mastered the course content, they're not going to pass. There is no reward for no effort."
As for students who strive for top grades, McFarland Middle School Assistant Principal Brenda Dunn, says those students don't have to fear the changes. "This system won't change anything for students seeking an "A" grade. In fact, it won't change anything for anybody in grades D through A. If a student strives for an A grade, they're still going to have to work for it. Nothing is watered down."
Desert Oasis High School Principal, Josh Tovar, said the new system does not reward students who don't make an effort. "This does not reward students whose effort may be less than par," he said. "In fact, when you look at data comparing the number of students passing courses compared to the number of students passing state assessments, we have far more students passing classes vs. the assessments." Tovar suggested one cause of this may be that the former grading system didn't do enough to measure what students have actually learned.

The new system also reduces opportunities to use grading for discipline. "Grades are not a reward or punishment," said OHS Assistant Principal, Jim Wood. "Those things happen around conversations that create a partnership between a student, a parent and a teacher. Giving students a zero doesn't represent their learning." Wood added that the need for extra credit is eliminated because students are completing assignments and demonstrating mastery. "There's no need for extra credit for things like bringing in a can for a food drive. That's good citizenship and something we want to encourage, but it's not a reflection or learning or mastery of course content."
Board Member Ken Johnson questioned whether colleges and universities would accept transcripts using the new grading system. "We've never had a college or university ask if we can show our grading policy because they want to know what scale we use. They're just looking at is it an A or a B or a B minus and what does that mean in terms of grade point average. This scale doesn't change that," said Director of Federal Programs, David Spencer.
Superintendent Dr. Chris Hurst said the grading practices are a new concept for Othello, but they are being proven to work in other districts. "These aren't really new ideas in the realm of education," he said. "Research shows that it removes stressors from students and makes their educational experience more meaningful and productive."
"I'd like to thank all of our staff who contributed to this conversation. In some ways, it started back in 2005 at Othello High School," said Dr. Hurst. "We know that this can be a sensitive subject for a lot of people who have a lot of different perceptions and opinions on the matter. We feel like this system is a great step forward in terms of grading equity in our secondary schools."
Watch the School Board presentation given by district administrators on December 7:

Grading Practices Examples
In this example , the student made mistakes but did put in some effort and learned some of the content. "D" grades do not show mastery, but they do show some learning that a student can build on.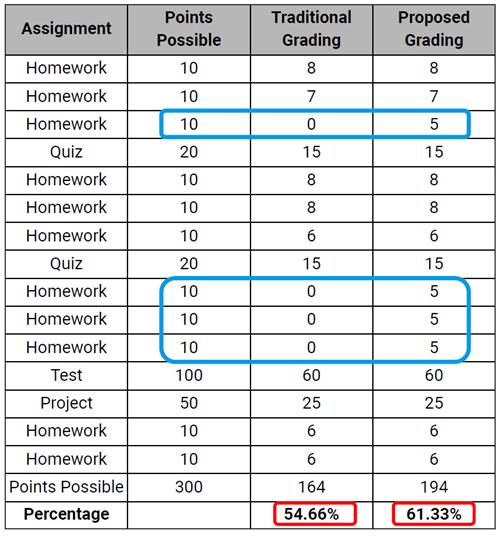 In this example, the student has a lot of missing assignments. Neither column shows evidence of student learning.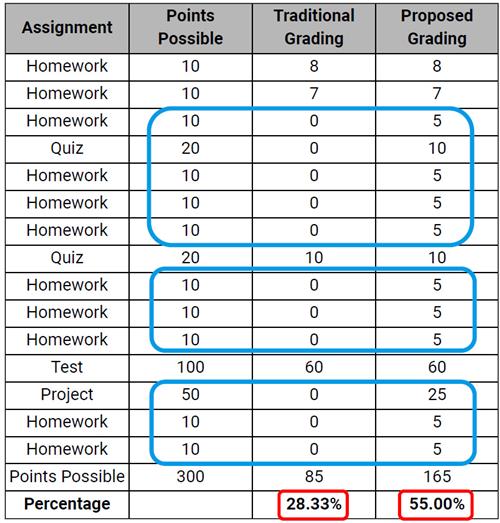 Here, the student starts a course poorly, but makes changes and finishes strong. The student has shown evidence of learning in the second half of the semester. Which score better reflects student effort and learning?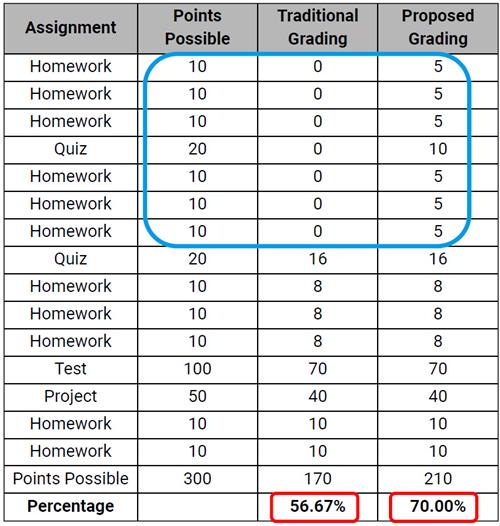 This example shows the same student, but now they have decided to turn in their late work. The student has provided more evidence of learning. Which score better reflects student learning and effort?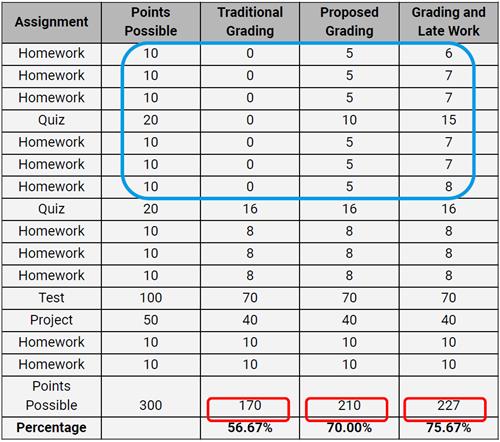 New Grading Scale
93-100 = A
90-92.99 = A-
87-89.99 = B+
83-86.99 = B
80-82.99 = B-
77-79.99 = C+
73-76.99 = C
70-72.99 = C-
67-69.99 = D+
60-66.99 = D
50-59.99 = F