Return to Headlines
CBHA Donates High Tech Thermometers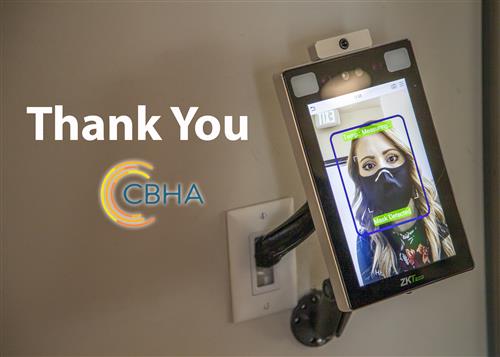 When kindergarten through third grade students return to their classrooms in Othello on November 4th, they'll have a high tech temperature check at the door. Thanks to a generous donation from Columbia Basin Health Association (CBHA), eleven new touchless temperature scanning devices will be installed at Othello's elementary schools.
Funding for the devices came from a COVID grant received by CBHA. "CBHA is excited for the opportunity to partner and support our local school districts provide a safe place for kids to learn," said Nieves Gomez, Columbia Basin Health Association CEO.

"We are incredibly grateful to CBHA for their assistance in procuring these devices," said Dr. Chris Hurst, Superintendent of Othello School District. "With our students on an AM/PM split schedule, we want to maximize their time in the classroom as much as possible. These devices will help us quickly check temperature and mask placement so that we can get our students inside and learning faster."
The devices, which resemble an iPad, can scan a student or visitor's temperature in 1-2 seconds, without physical contact. They can also detect if a person is wearing a mask or not. If a student's temperature scans high, a designated staff member will receive an email or text notification. "The devices can also use facial recognition to notify us when a temperature scan is out of our safe parameters, so we can locate that student and give them further evaluation even quicker," said Dr. Hurst.

"CBHA has rapid testing capabilities to assist with COVID-19 screening or diagnostic needs and the resources to respond to school testing requests. At CBHA we know that healthy students are healthy learners and we partner with our local school districts to assist with any healthcare needs. Because health equity and quality care are a focus at CBHA, we seek out opportunities to improve access to meet our community where they are by offering in person or virtual visits to all that can be initiated by school nurses," said Gomez.

"Our district is fortunate to have partners like CBHA who are vested in our community and who share our interest in keep students and staff safe," said Dr. Hurst.