Return to Headlines
Success in Othello's Early Learning Efforts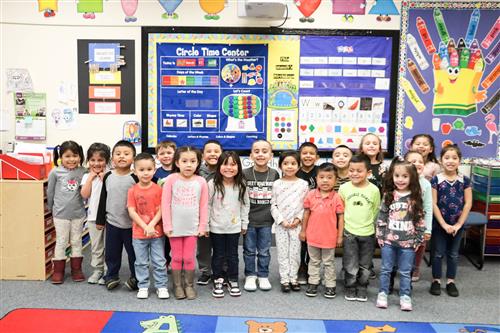 Othello's earliest learners are making tremendous gains in the preschool programs in our district. Increased enrollment, incredible growth in assessment scores, and a driven focus by staff and parents in kindergarten readiness are evidence of the commitment by Othello's Early Learning Department, to achieve its goal to ensure all Othello preschool children are prepared and ready to succeed when they enter Kindergarten.

The Othello School District began offering preschool services in 2002. At that time, enrollment was around 24 students. In the current 2017-2018 school year, there are 197 students enrolled in Othello School District's preschools. This number includes 77 students who are enrolled in the free ECEAP preschool housed at Lutacaga Elementary School. Of the 197 total preschool students, 35 currently receive special education services, including speech, physical therapy, occupational therapy, and other special services. The comprehensive preschool programs offered through the Othello School District work to ensure that all children are prepared to enter kindergarten ready to succeed.

In addition to increased enrollment in Othello's preschools, the significant gains in assessment scores are another indicator of the progress being made in early learning efforts. Washington conducts a Kindergarten Readiness Assessment (worth a total of 91 points) that assesses students on a variety of areas, including colors, shapes, letter names, letter sounds, number recognition 1-10, counting, name writing, knowledge of name and birthdate, and pencil grip. The assessment was given to Othello School District's preschoolers in August 2017, and then again last month in February 2018 – and the progress made by students was incredible!
In August, the average score earned by students was 19 points. In February, the average score was 65.
The highest score earned on the assessments taken in August was 34, while the highest earned in February climbed to the top at 90 points.
The average growth by students taking the assessment between the fall and winter was 22 points, with the highest growth by a student being at 68 points – from 15 points in August to 83 points in February!
When OSD preschool students initially took the Kindergarten Readiness Assessment in August, only 8% of the students scored 30 points or more on the test. However, last month in February, 97% of the students scored a 30 or higher!

The incredible growth by preschool students as measured by the assessment tool is also evident in the efforts made by the OSD staff and their parents in Othello. Numerous kindergarten readiness events, parent and staff trainings, and partnerships are highlighting the recognition that parents and caregivers are the best and most influential teachers for children in their first five years. The OSD Early Learning Department has conducted various staff trainings through the "Kinder Fellows" program, as well as developmentally appropriate kindergarten practice workshops and classroom site visits. Othello parents are also actively engaged in early learning efforts. Free READY! for Kindergarten parent classes were conducted during the fall, winter, and spring, with 125 families participating this past winter. The newly-developed LEARN Academy is another early learning partnership between Othello schools and its families to advocate and provide resources for each child. Both the READY! and LEARN classes are offered in English and Spanish for Othello parents and caregivers.

Learning in Othello begins long before students enter our kindergarten classrooms, and our Early Learning Department is dedicated to equipping our community's families with the tools they need to help their children during their earliest years. We invite and encourage all families to join in these efforts to prepare students for success in school by reaching out to our Early Learning Department at the Othello School District.